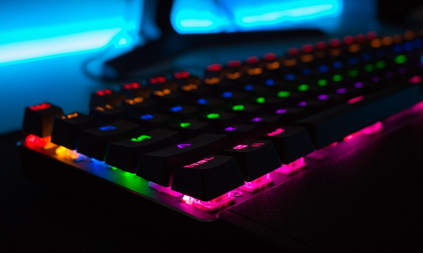 A year where being on trend has been more important than ever, and Ludo has been here to help!
2021 has been an incredible year for the gaming industry. It wasn't necessarily the big-name release year we were all expecting when the likes of God of War: Ragnarok and Elden Ring were mooted on next-gen consoles. Nor did we experience the growth in mobile gaming that we have come to expect over the last 2 years – down to 4.4% in 2021 according to VentureBeat, slightly behind the original forecast. However, what 2021 has lacked when it comes to the volume of new game releases, it has more than made up for in quality and innovation.
This year has also been significant for Ludo. Throughout this year, Ludo has kept its users up to date on the ever-changing landscape of the games industry. Users have made use of the revamped unique data centre on the platform, allowing teams to keep updated on the latest gaming trends. The game Ideator has also been improved, offering a more intuitive experience for users, and more searchable content than ever before.
In this blog, we will examine the biggest trends in games this year. We will also discuss how Ludo has kept both gamers and developers in the know throughout 2021.
Trendy-21 – the top gaming trends from 2021
This year, the games industry has drawn inspiration from other areas of the entertainment world more than ever before. Popular Netflix show Squid Game is a prime example. It has inspired developers to create their own versions of the games within the show, on mobile and on the likes of Roblox and Fortnite. TV and film have often been significant in shifting popular culture in a particular direction, and game developers looking to keep up with the latest popular trends have sought to capitalise on this.
This is not a recent phenomenon. Franchises such as Marvel have long been popular, and it is common for a studio to use this popularity to its advantage. Games connected to these franchises are often released close to the launch of a new film within the franchise. This is evidenced strongly by the upcoming release of a new Spiderman title arriving in 2023 to next-gen consoles, announced just a few months before Spiderman: No Way Home is due to hit cinemas.
Whilst TV and film projects have inspired a lot of new game developments in 2021, this last year has also seen a large number of games inspired by other games. Among Us, Minecraft and Animal Crossing have been hugely successful recently. Studios have seen this success and sought to emulate it by drawing inspiration from the concepts and creating something new. Among Us has inspired titles such as Deceit and Project Winter. Pixel Worlds and Creativerse are just two games inspired by the success of Minecraft. Studios using already successful games as inspiration has led to the creation of many excellent new games in 2021, albeit with familiar concepts.
Big-budget studios have experienced a shift in approach due to the success of other games. The remarkable success of Fortnite has led developers involved in the Call of Duty and Apex franchises to produce 'battle-royale' style games and game modes. These examples further evidence the importance of keeping up to date with the latest gaming trends – something Ludo has done for its users throughout 2021.
A final significant trend of 2021 has been the increasing popularity of survival and zombie games. It has been an incredibly challenging 18 months for people all over the world due to the ongoing COVID-19 pandemic. It is possible that there has been a correlation between this and the popularity of survival games in 2021. One of the year's biggest releases was Resident Evil: Village, and Dying Light 2 is one of the most anticipated titles for 2022. Whilst TV and film have been inspiring video games this year, the opposite is also becoming the case. The incredibly successful The Last of Us franchise has inspired the development of a new TV programme starring Pedro Pascal, and other TV and film studios are sure to follow suit in the future.
2021's Top Performing Games
Whilst 2021 didn't see the volume of titles that were expected at the beginning of the year, there were some outstanding releases. Metroid Dread on the Nintendo Switch, Ratchet & Clank: Rift Apart and Deathloop on the PS consoles, and Resident Evil: Village across platforms have made a real impact. The same is also true of the mobile games landscape. Among Us, Roblox and Pokémon Go enjoyed continued success, and the impressive Genshin Impact took home the award for best mobile game at the 2021 Game Awards.
Hosted by Geoff Keighley, the 2021 awards boasted 30 different categories ranging from Game of the Year to Innovation In Accessibility. The awards also celebrated the continued advancement of gaming. These included the award for Best VR/AR, won by Resident Evil 4, and for Games for Impact, won by Life is Strange: True Colours. Big-name titles such as Ratchet & Clank, Guardians of the Galaxy and Metroid Dread all featured heavily in the nomations. It Takes Two took home Game of the Year, and Deathloop won both Best Game Direction and Best Art Direction.
Ludo in 2021
It has been another outstanding year for the gaming industry, and an equally outstanding year for Ludo. The platform is currently home to (over 2000) users. All of these users now have totally free access to the newly revamped game ideator, icon search function, and a unique data centre with access to over 1.5 million games. These features make Ludo the most comprehensive toolkit for game developers looking to brainstorm and create their next great game.
With more to come in 2022, it is an incredibly exciting time to be a user on Ludo!