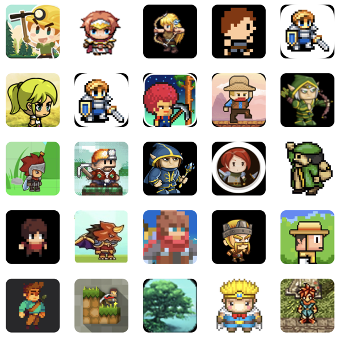 Ludo is the centralised platform for game conception and ideation. An all-in-one toolkit with all the features you need to create that next hit game. One of the most exciting elements of a platform like Ludo is that there is always room for new tools to be added. Ludo's latest tool for people developing game concepts at any level is the brand new icon search. Using cutting edge AI technology, this new feature allows creators to quickly search for and review a wide range of mobile game icons, offering endless inspiration.
Here, we will examine the key elements of this new icon search feature. We're going to look at why it's such an invaluable addition to Ludo's impressive toolkit. We will also consider the importance of icons in the game development process. Remember, this and other innovative tools are now available to all on Ludo!
What is the groundbreaking new icon search feature?
Whether you're an early stage game developer making your first steps in the industry, or an independent studio looking for fresh iconography for your game, Ludo's new icon search feature has got you covered. Searches can even be refined, with seven unique filters. These include filtering by genre, release date, graphic style and app performance. Simply select your desired filters, input keywords, phrases or game titles, and the icon search feature does the rest!
Ludo's icon search feature is facilitated by state of the art AI. It gives you a detailed view of each icon that appears in the search, what filters are in place, and cross-references this across other online platforms. This new feature pulls from Ludo's impressive database of over a million different apps. It is incredibly useful to a range of users looking to develop great iconography for their next game.
Why are icons so important?
Iconography is incredibly important in the world of gaming and game development. It is the first impression a prospective gamer gets when deciding whether or not to play the game. It should immediately grab the attention of potential audiences, while representing what the game is and giving the player a taste of what they can expect. This is particularly important when it comes to the app stores, which are highly competitive and where your choice of icon could really make a difference. Having the resources at your fingertips to research and develop a great game icon is crucial. Ludo's icon search feature lets you do just that.
What does the new icon search feature offer game developers?
As with any tool in the Ludo game development toolkit, the icon search feature is suitable for everyone. The time and resources needed to develop a professional standard game icon can be hard to come by for smaller independent studios and developers. This new icon search feature is quick, intuitive, and incredibly effective – delivering in-depth results in no time. The seven unique filters available allow users to narrow down searches in seconds, making it easy to develop something eye-catching in no time at all. Ludo's new icon feature is exactly what developers need to help create great iconography for their next game. It can offer users thousands of inspirational iconography examples in seconds, making the process of developing their next great gaming icon easier than ever.
This and other innovative tools – now available to all!
This exciting new tool, and the rest of the Ludo toolkit, is now available to be used freely by everyone. We have introduced a new free tier on the platform alongside the pre-existing paid tiers, so that everyone can experience Ludo's incredible features. Simply create your Ludo account, and dive right in! Anyone can now explore the many innovative tools you need to create a great game concept.