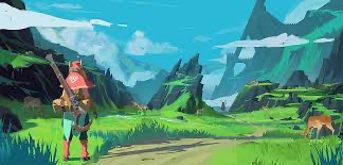 A guide to how the right artwork can make your game stand out, can become a USP for your game, and how changes in artwork can influence your game's style
Eye-catching artwork is an incredibly important part of any successful game. It is, after all, the first thing any gamer, reviewer, or distributor will see when engaging with the game itself. Crucially, artwork is so much more than what people see in-game. It is present throughout marketing materials, on logos, in online and physical stores, as well as in the interface, menus and in cutscenes. However you look at it, the visuals attached to a video game are crucial to how it is played, how it is marketed, and, most importantly, its appeal.
This blog is a guide to the importance of artwork in gaming. It will look at why having the right artwork is crucial when developing your next game. It will also analyse the latest innovations in video game artwork, and how it can be an effective marketing USP. Finally, we will look at how Ludo can help inspire game developers to create exciting and innovative new artwork for your next game.
Why is artwork so important?
The saying goes that you never get a second chance to make a first impression. The artwork in a video game is the first impression anyone gets of it, whether good or bad. It is what a player sees when they purchase and load up the game, and it will often be one of the main things they remember long after they have finished it. Interestingly, a Consumer Electronics Association study published in 2014 stated that 75% of gamers believe that visuals often played a key role in their decision to purchase and play a game. Artwork is a key element in building the brand and ultimately determining how it is recognised in one of the busiest marketplaces in the world.
Artwork is also a crucial part of storytelling. Different styles suit different genres, and how developers utilise a specific style of artwork and imagery can often determine the success of the narrative. With the advent of more advanced processors and graphics cards in gaming systems, and increasingly sophisticated monitors to play them on, how developers use artwork in their titles is more important than ever.
What are the latest unique innovations in game artwork?
There have been huge advancements when it comes to hyper-realistic graphics in video games. Studios are using these new technologies to push boundaries within both the cinematic and gameplay elements of their games. Hyper-realism suits some genres more than others though. It has been said that players of EA's FIFA franchise prefer it to the Konami produced, Pro-Evolution counterpart because of its more polished and realistic visuals. The likes of God of War, Elden Ring and The Witcher 3: Wild Hunt are considered visual masterpieces because of their extraordinary graphics. Conversely, quirky first-person titles such as the recently released Tiny Tina's Wonderland, have favoured a more fantastical, less realistic aesthetic. Commercially successful mobile games such as Candy Crush also have more functional artwork, allowing the mechanics of the game to shine through.
Breakthroughs in graphics software have allowed studios to create incredibly realistic environments and character models, taking in-game artwork to an entirely new level. One such development announced this year is Unreal Engine 5, which looks set to take hyper-realism in gaming to another level. It was announced through the release of the Matrix: Awakens demo, and was met with huge interest from the games industry as it demonstrated the immense power of the new engine. It presented possibly the most detailed environment ever seen in a video game, whilst also demonstrating incredibly realistic central characters and NPC models. Unreal Engine 5 promises to be a game-changer when it comes to gaming artwork and visuals moving forward.
How can artwork be a USP when it comes to marketing your game? And which games are currently doing this successfully?
Much like game mechanics, the artwork is not only crucial to the playability of a game. It can also be a springboard for marketing strategies, and unique artwork can also become a key selling point when it comes to getting your game noticed. Artwork is seen by many gamers as a crucial consideration when it comes to whether they decide to play a particular game. It is no wonder, therefore, that many studios opt to showcase their game's visuals in trailers and gameplay walkthroughs before their game is released. Artwork can also be a defining factor when competing against similar games within a specific genre. The competition between FIFA and Pro-Evolution is well known. But there are an array of other examples in the racing, horror and RPG genres where certain titles come out on top regularly, due in no small part to their superior artwork and visuals. 2022 looks set to be a huge year for gaming artwork, and there will no doubt be countless more examples of games successfully using their own innovative visuals as a marketing tool at the time of release.
How Ludo can help inspire exciting and innovative artwork!
Ludo, the complete creativity toolkit for developers powered by AI and machine learning, can help inspire developers to create innovative artwork for your next game. The Icon & Image Search tool allows developers to seek inspiration for their artwork and visuals by generating ideas based on specific parameters in seconds. The Image Generator feature is also an incredibly effective tool when it comes to artwork inspiration, providing developers with the opportunity to be inspired, this time by unique images that are generated based on the developer's own search parameters. This feature uses highly advanced machine learning to scan millions of gaming images, allowing it to generate images based on keyword or game title searches, making it a truly unique tool for game developers worldwide.
Try Ludo now!
There has never been a better time to try Ludo! The platform is always adding to its already vast creativity toolkit, meaning developers have everything they need to conceptualise and develop their next game all in one place. Not to mention, with its Free Tier subscription, these and other features are now available to all.
If you're a new developer about to embark on your next game development journey, make sure to make Ludo a part of it!