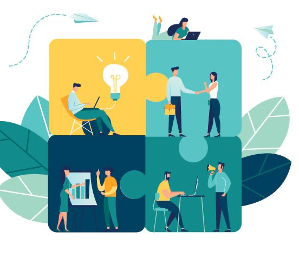 A guide to the first ever all-in-one game concepting template, and how it can save you hundreds of hours of design time
Ludo has announced the launch of the world's first Game Concept creator, a new tool which will streamline the game creation process, saving users hours of time when designing their next game. Ludo does this by integrating all of its tools into one completed Game Design Document (GDD). This new feature is free to use, and the unique GDD can be shared easily with fellow users and publishers.
In this blog, we will explain exactly what Ludo's new Game Concept feature does. We will also analyse why streamlining the game design process is so important, and how this creator, coupled with Ludo's new Game Elements feature, should be the go-to for any developers looking to efficiently create their next game.
What is the Game Concept feature?
Ludo's new Game Concept creator is a brand new feature that fully integrates all of Ludo's creativity tools into one fully-stocked GDD. At the touch of a button, the concept creator quickly produces an integrated document that can be worked on by multiple team members at once, before ultimately being shared with publishers and studios alike as a proof of concept for a new game.
The tools integrated into the new Game Concept creator also continue to take advantage of Ludo's state-of-the-art AI technology. This new feature is capable of generating thousands of suggestions for new concepts from its vast database of resources in just seconds.
Time is of the Essence – Why streamlining the development process is so crucial in the games industry
The games industry continues to grow at a truly remarkable rate, and numerous outlets maintain it is in fact the fastest growing industry on the planet. PwC has recently released data which outlines that the games industry will continue to grow by 4.4% every year up to 2025, and there is every chance that growth will accelerate beyond that date.
As the industry grows, more people than ever before are trying their hand at creating games. But creating a successful game can be a complex process. Time is very much of the essence, and anything that can make the development process more efficient is invaluable. The more time developers are able to save on concepting and designing their next game, the more time they will ultimately have available to pitch, market, and publish their upcoming titles. Having an array of tools available at your fingertips in seconds could make the difference in what is an increasingly competitive industry.
How Game Concept can help
With time being such a precious commodity in the game development process, having the right tools is crucial. Ludo's new, unique Game Concept creator has all the tools anyone might require to conceptualise, design and create an exciting new game, all in one place. With a complete creativity toolkit at their fingertips, developers can quickly conceptualise new game ideas, and create the perfect document to share with potential publishers. This really is the gold standard of game concepting. Introducing a best practice that the games industry can learn from and easily adopt.
The GDD that the Game Concept generates ultimately becomes an intuitive, collaborative workspace document which can be used by teams to create and present their ideas. Features the new Game Concept creator contains include the Image Generator, Daily Trends, and the Game Ideator. It also includes Ludo's brand new Game Elements feature – another exciting new addition to the creativity toolkit, and one that is set to reduce the time that studios spend on game design by up to 50% all on its own.
Gaming fundamentals at your fingertips – Ludo's new Game Elements feature
The Game Elements feature joins an already sizable kit of creativity tools, and has markedly improved the usability and efficiency of the platform. Developers can now simply input a description of their game concept, or start from an already generated idea, and Ludo will quickly suggest hundreds of ideas for mechanics, game plots, characters, game universes, levels and many more at the click of a button. It's as easy as that!
Try Ludo now!
There has never been a better time to try Ludo! The all new, one-of-a-kind Game Concept creator containing all of the platform's tools in one place can streamline the game creation process for developers across the industry, and with its brand new Free Tier subscription these and other features are now available to all.
Upon signing up, Ludo gives new users two free weeks of the Pro Tier subscription to try out all of the amazing tools and functions. After that, whether you choose the Pro, Business, or Free Tier subscription, you will still have access to all of Ludo's game developer tools. Free Tier users will receive 25 credits per month to redeem on the platform, renewed each month.
If you're a new developer about to embark on your next game development journey, make sure to make Ludo a part of it!