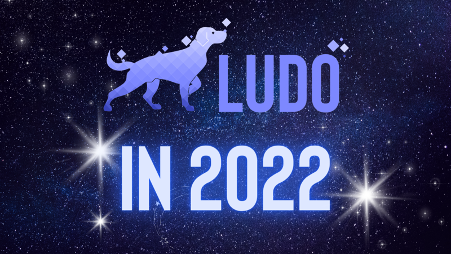 It has been almost two years since Ludo, the complete creativity toolkit for game developers was created. January 2021 saw the Open Beta release, and its official launch came in April of that year. In only its second full year in existence, Ludo grew substantially in 2022.
From brand new features and Ludo on the move to a shift from an ideation toolkit to the de-risking platform, Ludo has seen remarkable advancements over the last 12 months. What hasn't changed, is that Ludo remains a complete and constantly evolving creativity platform for its incredible community of users.
In this blog, we will look back at Ludo's journey through 2022. We will discuss the valuable new features introduced throughout the year, Ludo's expansion into mobile, and the incredible array of research tools that have been added to the platform. Ludo is the developer's first port of call to de-risk their next gaming project.
What's New In 2022?
Ludo was initially created to help inspire game developers, capable of generating unique game concepts at the press of a button. It uses machine learning, state-of-the-art AI, and an ever-growing database of over 1.5 million games to aid its users in creating their next game. At the beginning of the year, however, two of the most widely used features on the platform were launched. There was the Game Concepts feature, which fully integrated all of Ludo's creativity tools into one fully-stocked GDD (Game Design Document), allowing developers to quickly produce a combined document that can be worked on by multiple people at once. The first-of-its-kind game Image Generator also launched, and experienced a series of advancements throughout 2022. This feature helps developers to create their next game with bespoke art styles and enhanced visuals as well as the screenshots and icon elements.
Ludo On The Move!
You, the users, requested this feature more than any other. In 2022, Ludo delivered. The platform can now be accessed 'on the go' via any mobile device. In what has been a busy year for everyone Ludo's move to mobile has made it easier to access than ever before. This advancement also saw an increase of 80% in new sign-ups from mobile devices. Ludo's accessibility on mobile devices has saved members time during the development phase of their new games and has increased the community's size exponentially.
Ludo on mobile also contains all of the key features, including the Game Ideator, Image Generator, Top Charts and Daily Trends. The new Top Charts Blender tool, another feature introduced in 2022, is also available on mobile.
The Perfect 'Blend' Of Ideation And Research - Top Charts Blender Is Born!
2022 saw Ludo beginning to implement generative AI features into the platform's existing research tools. In the summer, alongside the move to mobile, the Top Charts Blender was released. This unique new feature allows users to create unique game concepts using trending games from the Trends Charts feature. Users can now blend the playability of games like Candy Crush Saga with the mechanics of Stumble Run Royale, and everything in between!
This new feature combined Ludo's existing ideation technology with its increased research capacity. This incredible blend of functionality could only be heightened by one thing - a new look!
New Year, New Look - Ludo Gets A Makeover, And Yet Another Feature!
As the year progressed, new features were added to the platform…and Ludo got a makeover! This fresh new look was accompanied by further improvements to the powerful Image Generator tool which contained three new ways to generate unique game images. These included the option for users to generate in-game 'screenshots' which give inspiration for how the gameplay of a game concept could look, as well as the ability to generate high-quality game icons. Finally, the addition of concept art generation meant users could create characters, worlds, game items and much more.
In November of this year, the Market Analysis feature was launched. This marked a shift for Ludo. Whilst remaining an invaluable tool for anyone looking for inspiration during the development phase of their next game, the platform also became a de-risking tool for developers eager to ensure their next project would be a success in the incredibly competitive games industry. Using state-of-the-art AI mechanics, this brilliant feature allows the Ludo community to analyse how a prospective project would perform in a particular market, ultimately limiting the chance of their next project not connecting with their target audience. As we head into 2023, Ludo will continue to grow and advance its functionality, securing its position as the go-to platform for anyone looking to de-risk their game in the pre-development phase.
The Sky's The Limit In 2023!
In just under two years, Ludo has become the ultimate ideation toolkit, a vast database for users looking for inspiration, and an incredible research platform to de-risk gaming projects. Ludo is also available to everyone for free and has been since the introduction of the free tier subscription in 2021.
If 2022 has shown us anything, it's that new features, tools, and advancements are never far away. If having access to a complete gaming ideation and research toolkit sounds like exactly what you're looking for, then there has never been a better time to sign up! Become a member of the Ludo community now, there are membership tiers to suit everyone.
As we embark on an exciting 2023, make Ludo a part of it!