The introduction of Ludo's unique Market Analysis feature late last year has proven to be a timely one for developers throughout the industry. But what exactly is this new feature? How does it work? And how can you use the data it produces in the development of your next game concept? In this blog, we will answer all of these questions, and outline where you can find this brilliant feature - right here at Ludo.ai!
What is Ludo's Market Analysis feature?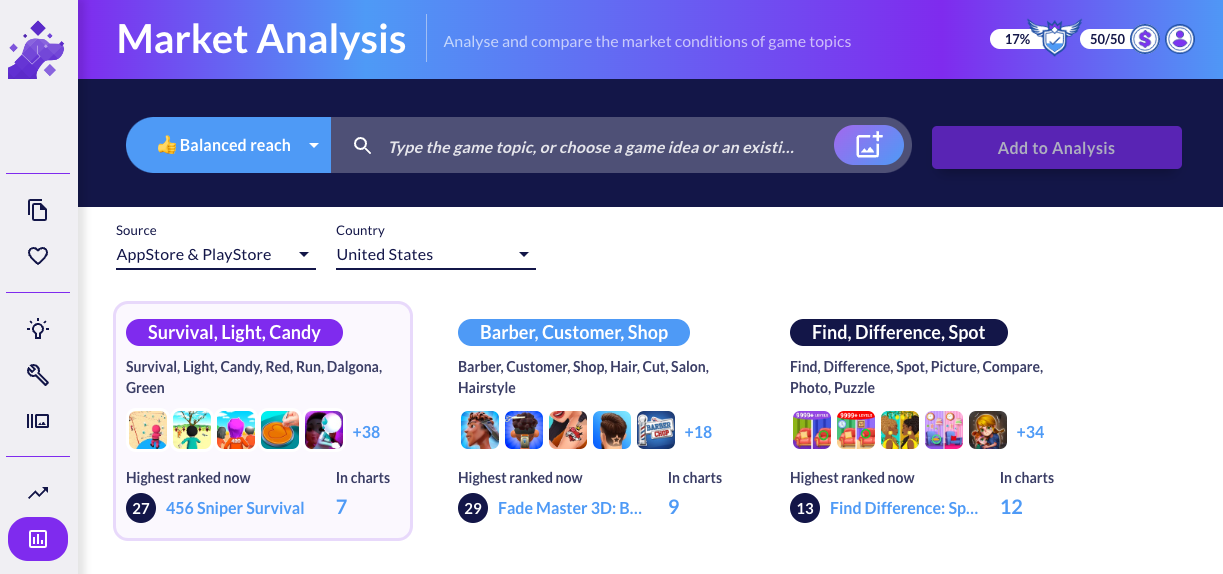 The Market Analysis feature has state-of-the-art AI mechanics at its core. Using AI, it is able to analyse how your latest gaming project would perform in a particular market. In doing this, it de-risks the entire game development process, allowing you to mitigate the risk of producing games that will struggle to connect with your target audience. It does this by producing a wide range of research data into a game's potential performance, with an array of search parameters at your disposal. This feature is the ideal partner to the already successful Daily Trends feature in the Trends section of the platform. With all of this data in one place, you will save a significant amount of time and money during the development phase of your next game. You can also rest easy knowing you have done everything possible to research your idea before releasing it into the most competitive industry on the planet right now. But how does the feature actually work, and how can you get the most out of it?
How does it work?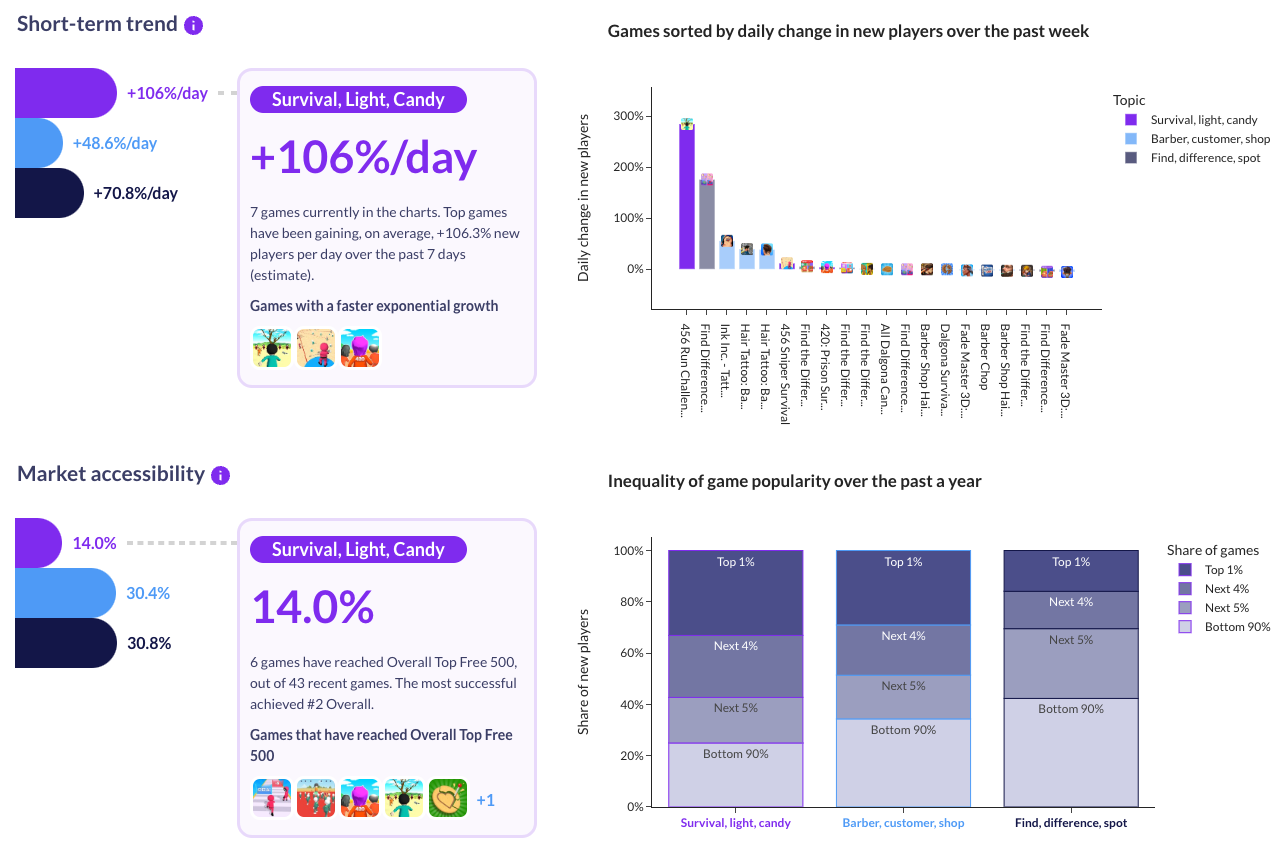 AI mechanics and machine learning have always been at the heart of every feature Ludo produces, and the Market Analysis feature is no different. Ludo has been trained on over 2 million games since its creation in 2021, and this number continues to grow. As a result, you can trust that the Market Analysis feature is up to date on the latest global gaming trends, and that it is able to produce incredibly detailed data and analysis on a remarkable range of genres in seconds. Simply input a game topic, game idea, or even a pre-existing title and Ludo will show you how they have been performing recently, and how likely it is for your game to succeed in that area. You can also refine your search in the search bar, where you can ask the tool to perform a:
● 'Balanced Reach' search - across a sensible group of games around your query;
● 'Focused' search - analysis of a tighter cross-section of titles;
● 'Wide' search - produces results for, you guessed it, a broader range of titles

These results can also be refined based on the particular game store you're interested in, be that the PlayStore, the AppStore or Steam.
Once you have decided what your search parameters are and refined them accordingly on the platform, Ludo takes care of the rest. The Market Analysis tool generates data based on the genre which is presented at the very top of the screen, before breaking its analysis down into long-term popularity, short-term trend, market accessibility, how long it has been since a game was created within a given topic on average, and it even generates an originality score for that particular search. All of this in one place on an incredibly intuitive section of the platform that can generate this data in seconds.
This level of analysis is invaluable when developing your next game idea. The next challenge, however, is how you use this data to make your game a success.

How can Market Analysis data be used in the development of your next game?

Using the Market Analysis tool to generate detailed analysis of current trends is one thing. Applying this data to the development of your own game is an entirely different ball game. The way this data is presented by Ludo, however, helps make this process easier than ever. As an example, if you know your game is going to exist within the 'match' or 'puzzle' genre, then you will likely be competing against the likes of 'Gems of War' and 'Candy Crush Saga' to name just two. Your new game won't yet exist on the database as it is yet to be released, but the Market Analysis tool can generate data on these two existing games, allowing you to analyse how they are currently performing and what other games are performing well against it. Let's say that the short-term trends data indicates these games are down at an average of 5%, but similar games that incorporate more action elements are performing well. With this data at your disposal, you can make an informed decision on alterations to your existing concept.
In short, data produced by the Market Analysis tool can be used to make significant changes during the development phase of your game to give it the best chance of success. Fundamentally, this data can also be used in your pursuit of producing unique versions of existing genres, combining popular elements of current games and taking the industry by storm with your next title.

Access Ludo's Market Analysis Feature right away!
Ludo's state-of-the-art Market Analysis tool allows you to stop the guesswork and make informed decisions for your next game. It is the latest tool in what is still the must-have toolkit for anyone looking to embark on developing a new game. Ludo, built by a team of experts who have applied the newest and latest technologies to a platform that will revolutionise the game development process, is the best pre-game investment you can make. It uses cutting-edge AI and machine learning to help developers de-risk their next game idea, and the Market Analysis feature is just one of many incredible research tools in its arsenal.
Try Ludo now! If you're a developer about to embark on your next game development journey, be sure to make Ludo a part of it! Sign up for Ludo now!